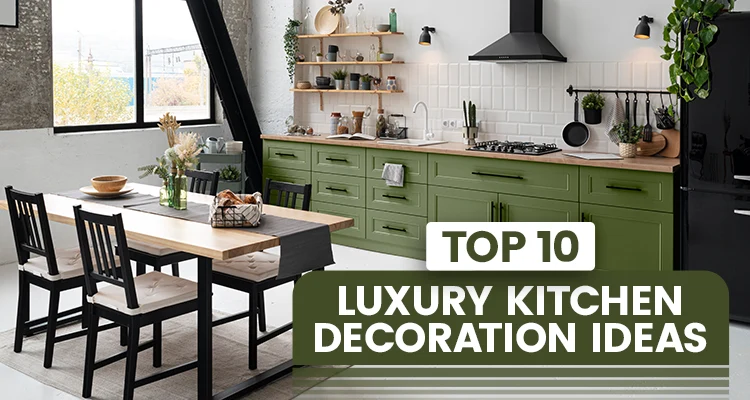 Top 10 Luxury Kitchen Decoration Ideas
The luxury kitchen is something that every person dreams of. The sleek appliances, custom cabinets, upscale materials, and countertops that show great artwork all come in a luxurious and stylish kitchen. Adding more, you should also not forget about the little details because it makes your kitchen better than before. You know getting a dream kitchen is now possible through the kitchen renovation process. Before starting the renovation procedure, it is necessary to select the right design that fits best with your house. Check out the top luxury kitchen decoration ideas one by one and select any of them as per your requirements.
Best Luxury Kitchen Decoration Ideas
Incorporating luxury design within a kitchen is not an easy task, it takes a lot of time and effort. If you want to get your dream kitchen, then follow the ideas given by our expert renovating team to you are discussed below.
Invest in Statement Island
Be bold and unique to choose the unique shapes for your kitchen. Think out of the box. Selecting a kitchen island design is a brave move and also makes your kitchen different from others. Get rid of the rectangular shapes and go for these unique shapes. You can add statement lighting, waterfall edges, and bold materials to make your island kitchen more captivating in appearance.
Use Two Color Combination
Why select one color when you can go for two? A kitchen with the best two color combination looks more interesting than a kitchen with a single color. You can select cabinet colors different from the wall paint of the kitchen. Go for bold colors and also select light colors for walls to make the kitchen more interesting. Our painters from OZ Perth Renovation give you the best advice about what is right and best for your kitchen. The painters are professional enough in using the right color combinations to give your kitchen a luxurious feel.
Go for Natural Materials
You can also give your kitchen a natural and more attractive feel by opting for natural materials. The wood cabinets with veined marble, simple cabinets, and light wall paint colors. Adding more, you can go for the best tiling's that also show a natural appearance. The tiling from professional tilers gives your kitchen a more luxurious touch. A kitchen with natural materials is the best choice to increase enjoyment and make your cooking or eating more fun.
Create a High-End Breakfast Nook
Adding a breakfast nook within your kitchen is another way to add comfort. You can go for a round white table with small sky color chairs with plush seating. Adding more, you can go for light or retro furniture for your kitchen. If you want to make your kitchen more attractive and eye-captivating, you can also add a coffee station. This makes your breakfast more interesting and delightful in the morning.
Opt Marble Countertops
If you are in search of luxurious kitchen design ideas, then adding marble countertops is the right choice. You know these marble countertops come up in a variety of colors. Adding more, these countertops also have veining that makes them more interesting to use in the kitchen. These marble countertops look lavish but are also easy to clean and highly durable.
Use Dark Color Kitchen Cabinets
Dark color cabinets in the kitchen give it a bold and lavish look. You can select various colors including dark charcoal, burnt rust, etc. These dark colors are a perfect choice to bring dramatic touch to your kitchen. You can also add statement art, metallic fixtures, and bold accents to better go with these dark color kitchen cabinet trends.
Add a Chandelier in the Kitchen
A chandelier can easily upscale the look of your kitchen. You can add one or two chandeliers within your kitchen according to the space area. Both the crystal and glass chandeliers look best, you can select any of them as per your desires. If the size of your kitchen is small, then don't choose too big chandeliers because it looks weird. Be smart and select the right chandelier for your kitchen to make it more eye-captivating.
Elevate your Kitchen Backsplash
High shine finishes give your kitchen a mind blowing and fabulous look. You can go for warm copper or steel backsplash for an eye captivating kitchen appearance. Fabricate the backsplash joints with welding to avoid bacterial attraction at the joint points. In this, the copper backsplash and countertop are used. Adding more, the sink is also integrated to make the look better and attention grabbing. It looks interesting but also an effective way to get rid of pathogens.
Keep the Kitchen Pure White
Nothing is better than a pure white kitchen. Trends come and go, but the trend of white kitchens never gets old. If you like classic things, then the white kitchen is for you. You can add the white marble top with light black veins and dark color furniture to make it more classic. The white kitchen with some dark color combinations gives a highly comfortable view to others.
Go for Commercial Grade Range
If you love to cook, then this kitchen design idea is for you. The commercial grade appliances in the kitchen allow you to cook any type of meal anytime. They are durable enough and give your kitchen a luxurious look. Adding more, you can cook like a pro in a commercial grade range kitchen.
These are the top luxurious kitchen design ideas and you select any of them as per your liking. Our kitchen renovating team is ready to serve you any time and provide you with your dream kitchen. Contact us to get a renovation service that meets your requirement and time deadline also!