Tiling Perth
Spend no more energy thinking about how to refurbish the look of your kitchen, bathroom or outdoor tiles. Get one stop renovations to avail exceptional services and an expert opinion from interior tilers on the extent of tiling services you require as well as the type of tiles needed.
The colors and patterns of your tiles reflect the goals you wish to achieve for the enhanced look of your premises. For example, making your space appear bigger or brighter. We offer multiple options of tile variety based on the use and requirement of our clients. You can communicate with experienced designers at our company for more professional input that is well within your range.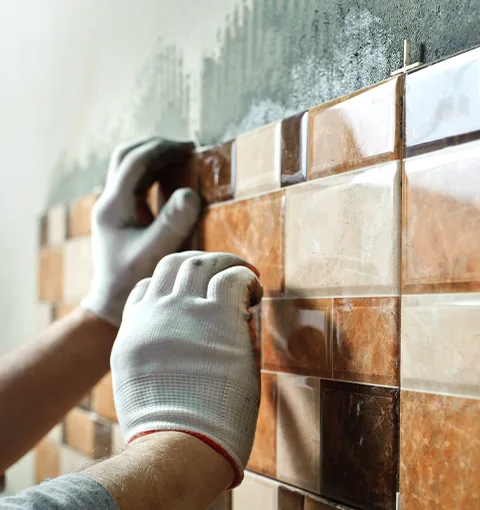 Types of Perth Tiling Service
OZ Perth renovation offer various tiling services to its clients for each type of use in a specific space. These options best fit your requirements and raise the value of your place once installed by our expert tilers in Perth.
Roof Tiling
We provide excellent quality tiles to amplify the look of your roof in the best possible way. Worry no more about huge puddles of stagnant water on your roof and make the drainage process fast and easy. Avail of our reliable roof tiler services to revamp your roofs.
Floor Tiling
Elevate the look and feel of your floors with our professional floor tilers in Perth, who aim to make your experience pleasant and effective. No more shabby looking dull floors that are hard to clean and never look fashionable. Contact us to amplify the appearance of your floors.
Wall Tiling
Avail of our phenomenal wall tiler services to amplify the appearance of your interior walls in the most cost effective way. Dry and boring walls can make your rooms as well as your senses dull. Contact our professional tiling team to get rid of the neglected patterns on your dingy walls.
Kitchen Tiling
The cooking experience solely depends on the way you feel at that moment when you cook in the kitchen. Dull kitchens make you not want to cook in the first place. Contact our professional kitchen tilers at onestoprenovations for a more pleasant cooking experience.
Why Choose Us
Customer Support
We are the best Perth tilers in Australia who aim to establish effective communication with our clients to understand exactly what they require. Avail our services at extremely pocket friendly rates.
Trustworthy Services
OZperthrenovation is a place where you can get timely services from experienced professionals. We aim to build a long term trustworthy relationship with our clients for a pleasant experience.
Professional Tilers
Our highly skilled professional tilers have mastered the art of efficiently performing their job through professional techniques without any mess or fuss, ensuring a smooth tiling process for clients.
Low Price
Our tiling prices are extremely affordable and pocket friendly in Perth because we set our rates according to the customers' requirements and needs, without putting an extra cost on the services provided.
Frequently Asked Question
The cost of tiling in Perth depends upon the quality and amount of tiles you want to use at your residential or business place. At one stop renovations, we aim to offer prices that make your project extremely budget friendly for you.
Contact onestoprenovations by simply calling our given number or emailing us directly without any hesitation and get your desired tiling service.