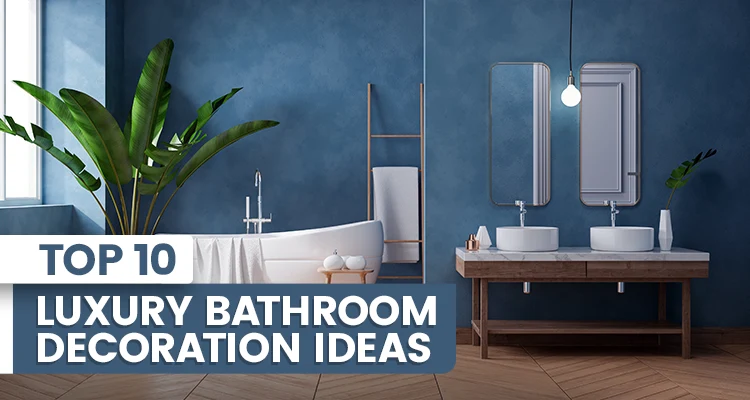 Top 10 Luxury Bathroom Decoration Ideas
Are you planning to renovate your bathroom and transform it into a luxurious one? If yes, then you are at the right place. If you have the space, we can help you in creating the luxury bathroom of your dream. It makes your restroom more spacious and functional. Moreover, some top-notch features of luxury bathrooms make it more comfortable and relaxing. It allows you to ensure that every component of your bathroom is functioning properly and efficiently. However, a well-designed luxury bathroom adds value to your home. You can rely on us for exceptional bathroom renovation assistance. With our top-quality support, we make you feel rich and luxurious by allocating different spaces for a shower, dry area, sink area, and so on.
Top Luxury Bathroom Design Ideas
Here are the top ten decoration ideas and designs for luxury bathrooms.
White Sanitaryware
White sanitaryware is considered the best option for elegant bathrooms. You can create a luxurious bathroom on a low budget with our assistance. Moreover, we can help you choose the right combination of textures that makes your bathroom look more expensive and appealing.
Modern Marble
If you want to make your bathroom luxurious, consider using exotic marble. They are elegant, stylish, and undoubtedly more beautiful than any other material. Our designers use a modern marble that creates a very magnificent look in your bathroom.
Bathroom Chandelier
Do you want to add glitz and glamor to your washing area? You can go for Oz Perth Renovation as it can do this for you by adding a beautiful chandelier in your bathroom. It is not only used to spread light gently to the entire bathroom but it also enhances the beauty of your restroom. This is how it becomes the main attractive point of your luxurious bathroom.
Mirrored Wall
You can make your bathroom look luxurious by giving one part of it to decorative things like mirrored walls. Mirrored walls are considered one of the bold and best luxury design options for restrooms. Moreover, it adds value to your bathroom too.
Tile Flooring
Tile flooring is one of the finest luxury bathroom design ideas. Our bathroom designers offer various traditional and modern tiling styles. You can choose tiles depending on the aesthetics and color combination of your bathroom.
Modern Floating Cabinets
If you want to make your bathroom look larger and easy to clean, you should go for modern floating cabinets. Unlike traditional cabinets, modern floating vanities take up less space and make your bathroom look more spacious and luxurious.
Contour Bathtub
In luxury bathroom ideas, the contour bathtub is stealing the show. It is usually used for bathing but at the same time, it plays a vital role in making your bathroom look luxurious. It takes up a large area of your bathroom but also becomes a focal point.
Bring in Flowers
Another way to give your bathroom a luxurious look is by adding a vase of flowers into it. It is considered a sophisticated way of brightening up your restroom and giving you a good vibe.
Stylish Accessories
The use of stylish accessories is the best way to make your bathroom look luxurious. You can use decent curtains, mirrors, soft textures, and decorative stones to make your space look more appealing.
Skylight
Skylight is another appealing luxury bathroom decoration idea. By adding a space for a skylight, you can get natural light in the restroom. Moreover, it reduces the humidity in the bathroom and makes your bathroom look more luxurious and sophisticated.
Consider adding the above elements if you want to make your bathroom look luxurious and elegant. Moreover, you can contact Ozperthrenovation for a better experience. Our professional designers can transform your bathroom into a luxurious one at pocket-friendly rates.