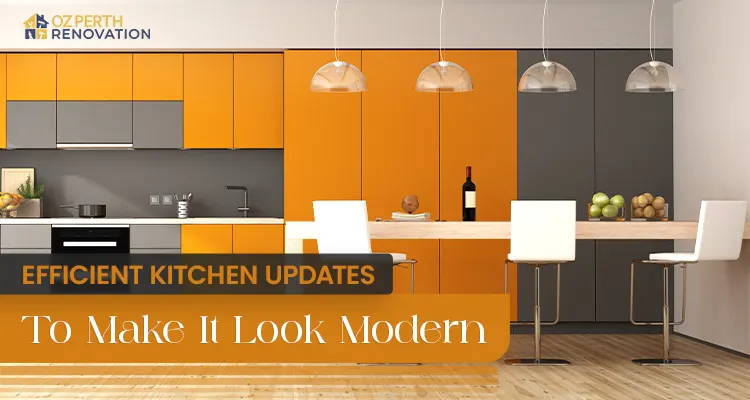 5 Simple and Efficient Kitchen Updates to Make It Look Modern
Ready for a kitchen makeover? In this modern era, renovating the kitchen gives you a special feeling, making your eating and cooking more joyful and exciting than before. You can update your kitchen by installing new cabinets, tilings and revamping the walls with alluring paint. You can also enhance the space area through kitchen renovation according to your needs. These quick, simple, and efficient ideas improve your kitchen by spending less or even nothing at all. Let's check them out in detail!
Top Ideas to Give your Kitchen a Modern Look
Bring the best and brilliant colors, texture, and better functionality to your kitchen by following the simple and efficient ideas that are mentioned below.
Paint your Kitchen Cabinets
Want to give your kitchen a modern look? Then painting your kitchen cabinets is a better option. From single to double or triple tone, it's up to you how you want to change the look of your kitchen. You can go for white, blue, or any other color because endless options are available.
You can also bring samples to your home from us and select them with ease by examining them in the daylight. If you are not able to choose then you can take suggestions from our expert painters for renovating the kitchen cabinets.
Our painters Perth give you suggestions on the basis of the latest trends and change the look of your kitchen by painting the cabinets well. We know cabinets are the most important and noticeable element in the kitchen. For this, we pay a lot of attention to the cabinets and make your kitchen better than before by using the perfect color combinations.
Install Backsplash in Kitchen
Add pattern and a modern look to your kitchen by installing a backsplash in it. In this era, backsplash installation in the kitchen is quick and easy. The subway tile style is very popular and common. There are different types of tiles such as porcelain, glass, and ceramic, you can select any style as per your desires.
After choosing the tile, you can go for a grout color. The color must be opposite to the tiling fo a more eye catching look. You can choose dark, light, or metallic colors for your kitchen. The tillers at OZ Perth Renovation also use herringbone or vertical lines to make your kitchen more attractive.
Install the backsplash at the upper parts of the cabinets. You can install the backsplash in the middle or at the side of the kitchen to give it a dramatic look. Choose the right color patterns and give your kitchen an outstanding look.
Replace Hardware
Replacing existing knobs with vintage or modern hardware adds value to your kitchen. In some time, you can easily upgrade your outdated kitchen cabinet knobs. There is no need to match the hardware with the finish of your kitchen sink and other appliances.
You can go for brass pulls with black metals to add a visual appeal touch to your kitchen. Many people use drawer and cabinet knobs in the kitchen on a daily basis for this, use simple and easy to handle knobs for your kitchen accessories.
The hardware design must be functional as well as stylish. You can go for an ornate style and novelty pulls to make your kitchen beautiful. Always try to buy knobs that are suitable for your family and also come within your budget.
Add Cabinet Accessories
We know half of your time is spent in the kitchen finding out ingredients, pans, bowls, and other things. But, many people want to be organized in their life by investing in storage solutions. If you want to give your kitchen a new and modern look, then hire a professional carpenter Perth to add cabinet accessories to give your kitchen an organized look.
You can add roll out trays within your kitchen cabinets to increase the better space and take advantage of it. In this modern era, blind corners, lazy susans, and various other options are available to give your kitchen an organized look.
It keeps all the things within your reach. Adding more, you can also add door mounts, racks, dividers, under shelf baskets to keep everything away from a mess. It keeps your lids, cookware, spices, and other things in an organized manner.
Add Kitchen Rug
You know the rugs are used to update the living room, as well as you can also use them to update your kitchen. It is the best thing to make your kitchen look more charming than before at an affordable rate.
It gives your kitchen a cohesive appearance. Adding more, it also makes your kitchen clean and also gives comfort to you. You can use the rug in front of the fridge and you can also use it in front of your sink to give your kitchen a classy look.
Try to use the rugs which are washable in machines and give your kitchen a luxurious appeal. You can use jute, wool, and various other types of rugs for your kitchen to improve kitchen visibility.
Go for these effective and simple ideas to make your kitchen modern and more interactive than before. The kitchen renovators at PerthRenovation are always ready to serve you according to your requirements. With our best working skills, we always try to satisfy clients. Contact us and get your kitchen renovated to upgrade its look!